News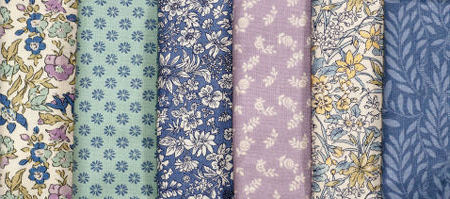 A selection from The English Garden Collection, by Liberty London Fabrics
Just arrived!
* * * * *
Calico Kate is open again!
I am celebrating! Painting and restoration has begun at Calico Kate following the burst pipe on March 2nd.
'Puzzle Pieces' from Moda will be arriving soon: a collection of 60 fabrics in a warm variety of light and dark small scale prints - perfect for traditional and reproduction quilts.
To complete the restoration I shall be closed on Good Friday and Easter Monday...open as usual all other days.
Kate
<>
Article about Calico Kate
We were thrilled to be the "featured shop" in the Moda blog recently. Read the full post here!
* * * * *
Sew Saturday 2017
Calico Kate's Sew Saturday project, to encourage customers to make jumpers and mini-quilts for seventy teddy bears to send to children in Romania, was a success beyond all expectations! Read more about the project at the links below:
* * * * *
Just arrived:
'Bohemian Vibe' and 'Toscana', by Northcott Studio
'Oak Grove Lane', by Kathy Schmitz, from Moda
'Puppy Love', by Anita Jeram for Clothworks
'Ahoy Me Hearties', by Janet Clare, from Moda
'The English Garden', by Liberty London
'William Morris 2017', by Moda
'Quill', by 3 Sisters, from Moda
'Into the Woods', from Makower
'Fall Impressions', from Moda
'Be Colourful': batiks from Anthology Fabrics
Follow the links on the Fabric pages!