News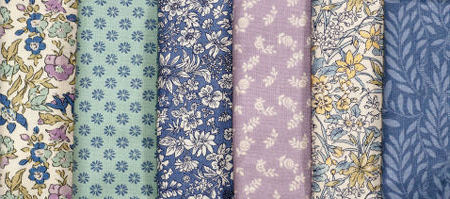 A selection from The English Garden Collection, by Liberty London Fabrics
Just arrived!
* * * * *
British Sewing Awards 2017
We are delighted to have been nominated for the British Sewing Awards 2017, in the category, Best Haberdashery Retailer, Wales.
Please click the image above if you would like to vote for Calico Kate! Thank you.
* * * * *
Article on Calico Kate
We were thrilled to be the "featured shop" in the Moda blog recently. Read the full post here!
* * * * *
Sew Saturday 2017
Calico Kate's Sew Saturday project, to encourage customers to make jumpers and mini-quilts for seventy teddy bears to send to children in Romania, was a success beyond all expectations! Read more about the project at the links below:
* * * * *
Janome Sewing with Style Autumn Offers
Running from 4 September 2017 until 2 January 2018, lots of great offers on many sewing machines from Janome. Click here to view. See above for special Sew Saturday offer!
* * * * *
Just arrived:
'Ahoy Me Hearties', by Janet Clare, from Moda
'The English Garden', by Liberty London
'William Morris 2017', by Moda
'Quill', by 3 Sisters, from Moda
'Into the Woods', from Makower
'Fall Impressions', from Moda
'Be Colourful': batiks from Anthology Fabrics
'Hakama' and new novelty fabric, from Nutex
'Birdsong', from Dashwood Studio
'Celtic Blessings', from Lewis & Irene
Follow the links on the Fabric pages!