News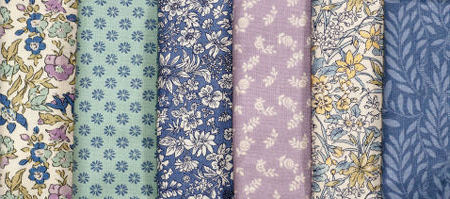 A selection from The English Garden Collection, by Liberty London Fabrics
Just arrived!
* * * * *
Article on Calico Kate
We were thrilled to be the "featured shop" in the Moda blog recently. Read the full post here!
* * * * *
Sew Saturday 2017
Calico Kate's Sew Saturday project, to encourage customers to make jumpers and mini-quilts for seventy teddy bears to send to children in Romania, was a success beyond all expectations! Read more about the project at the links below:
* * * * *
Janome Sewing with Style Autumn Offers
Running from 4 September 2017 until 2 January 2018, lots of great offers on many sewing machines from Janome. Click here to view. See above for special Sew Saturday offer!
* * * * *
Just arrived:
'Puppy Love', by Anita Jeram for Clothworks
'Ahoy Me Hearties', by Janet Clare, from Moda
'The English Garden', by Liberty London
'William Morris 2017', by Moda
'Quill', by 3 Sisters, from Moda
'Into the Woods', from Makower
'Fall Impressions', from Moda
'Be Colourful': batiks from Anthology Fabrics
'Hakama' and new novelty fabric, from Nutex
Follow the links on the Fabric pages!