Welcome to Calico Kate!
* * * * *
Established in 2002, Calico Kate has gained a reputation as an 'Aladdin's Cave' for patchworkers, dressmakers, knitters and many related crafts.
In a building full of charm and character, you can now wander through twelve rooms of fabric, haberdashery and yarn, in a relaxed
and homely atmosphere.
Calico Kate is in Lampeter's High Street between the handsome Town Hall, home to the Welsh Quilt Centre, and the NatWest bank.
* * * * *
British Sewing Awards 2016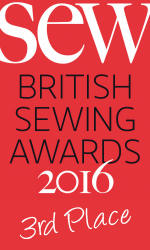 Nominations are now closed for the British Sewing Awards 2017! Those businesses and products which have received the most nominations will go through to the voting stage, later this year.