News
Australian Bushfire Animal Rescue
Raising Funds for Australian Bushfire Animal Rescue Efforts
Tragically, on Jan 21st a C130 Hercules aircraft, carrying out water bombing to save the Two Thumbs Wildlife Sanctuary and surrounding areas, crashed near the sanctuary, resulting in the loss of three brave airmen.
Sadly, the sanctuary, only just recovering from a previous fire, was wiped out. These animals' home, and their lives, were lost, along with the home of their dedicated protector, James.
This is not just one sanctuary, but a zone for many of the local sanctuaries to safely release rehabilitated animals.
The Rescue Collective charity immediately embarked on a AU$98000 program to help rebuild what is one of the most important sanctuaries in the area, a safe haven for rescued wildlife in Southern NSW.
Procurements are now being made for:
Accommodation/treatment rooms (portables)
1 large container home
Several large enclosures
Fencing and equipment
Water Tanks
Fire equipment
Portable showers
Medical supplies replaced
Furnishing and infrastructure
Vehicle and all sorts of supplies
Calico Kate is supporting this effort to rebuild the Sanctuary: proceeds of all remnants and offcuts sold in the shop are being donated.
So far I have sent £190.00, so visit Calico Kate to pick up a bargain and help this appeal!
If you wish to make a direct donation, or to read updates, follow this link:
The Rescue Collective
British Sewing Awards 2019
As well as celebrating UK chains and online stores, the British Sewing Awards prides itself in recognising the value of smaller independent shops scattered throughout the UK. This category is divided up into six regions: Scotland, North of England, Ireland, Midlands, South of England and Wales.
It is in this category that Calico Kate has been named
Best Independent Retailer in Wales.
We were delighted to receive the same award in 2018 and appreciate your support in 2019!
These awards are run every year, and highlight the importance of High Street bricks and mortar shops to the local economy.
o0o
Tuffet classes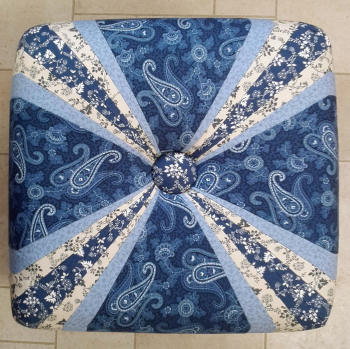 Learn to make a tuffet with Calico Kate, click here for details
o0o
Gift Ideas!
Click here for some all-year-round ideas for gifts
o0o
Just arrived
Follow the link to the fabric pages to view.
'Guess How Much I Love You When I'm Big', from Clothworks

'Happy Campers', by Tilda

'Spring Garden', by Makower

'Harvest Road' precuts, from Moda

'My Redwork Garden', from Moda

'Under the Oak Tree', by Lewis & Irene