News
COVID-19: 'firebreak'/lockdown in Wales
Saturday 24 October to Monday 9 November
Calico Kate is closed to visitors,
but not to your orders!
So it is mail or internet ordering only during the lockdown.
Full details on Home page
oOo
Calico Kate is 18 – a celebration!
It was Calico Kate's birthday on 2nd October
To celebrate this I am giving away a "Quilters Quip" to every customer who visits or orders from Calico Kate throughout October and November. Each time you order, you have a chance to collect another Quip — there are eight in all.
At the very least the Quip will make you smile, and perhaps inspire you to create something original from the fabric.
Rules, there are no rules!
The prizes: A Janome Sewing Machine, Calico Kate Vouchers, threads and a workbox.
All you have to do: let the Quilters Quip inspire you to create something original from the fabric.
You can add whatever extra fabric you wish to the panel, use just one picture, or as many as you like so the finished item can be large or small.
Then email me a photograph, including your name, address and telephone number for a chance to win one of the prizes.
The competition is not being judged until December 31st… so plenty of time to think and sew!
I would like to thank all my customers past and present, without you there would be no "Calico Kate"!
oOo
British Sewing Awards 2020 — Voting is now open!
Thank you all for nominating Calico Kate for the British Sewing Awards 2020.
Click the logo above to vote, or go to Sew Magazine. Scroll through until you come to the Category 'Best Haberdashery Shop, Wales' in the 'Retailers' short-list.
Last chance to vote: voting closes on 30th October!
Thank you, Kate
oOo
Free Parking in Lampeter
Parking in Lampeter is now free in the Rookery, Cwmmins and Market Street car parks in Lampeter
oOo
Recent arrivals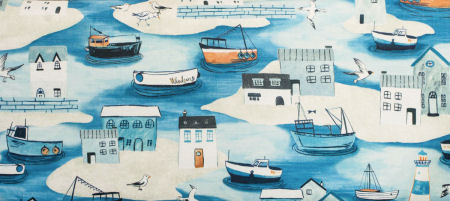 from P & B Textiles' collection 'Sailor's Rest'
'One Room Schoolhouse' from Washington Street Studio

'Splendor Batiks' from Moda

'Village Life' collection, from Makower

'Solid Colors' from Tilda

'Oh Holy Night' panel and fabric from Northcott Studio

'Best of Morris - Fall' from Moda

'Harbor Days' from Blank Quilting

'Maple Farm' from Tilda

'Tiny Farm' from Tilda

'Jolly Season' Christmas fabric, from Moda

Additions to 'Gustav Klimt' collection, from Robert Kaufman
Follow the link to the fabric pages to view all collections.