News
British Sewing Awards 2019
Thank you for nominating us:
now is your chance to vote! Closing date is 13th November 2019
Vote here: Sew Magazine Awards page,
or click on the logo below: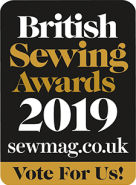 We were delighted to receive the award for Best Independent Haberdashery Shop in Wales in 2018 and hope for your support again in 2019!
The awards are run every year, marking the importance of High Street bricks and mortar shops to the local economy.
Sewing Week & Sew Saturday
Calico Kate will be participating in Sewing Week and Sew Saturday, a national event in association with Sew Magazine. Read all about our plans here!