News
British Sewing Awards 2020
Nominations are now open for 2020… and have been
extended until 31st May.
To nominate Calico Kate, click on the logo

Click here for more information or to nominate
.
For the last two years Calico Kate has been nominated and won the award for The Best Independent Retailer in Wales.
We aim to give the best customer service, a shop that wows and delights our customers and the quickest turn around on internet orders. For this, I would like to thank my staff Karen, Lesley and Kate Hannon, and special thanks to my husband Peter Barnes for his photography and for my website… all together *We are Calico Kate!*
o0o
Haberdashery supplies
What are you running out of during the shutdown?
From threads, to machine needles, rotary cutting blades, Bondaweb, Vilene, elastic…
…not to mention wadding! Maybe you now have time to finish that quilt…
In stock: Polyester, cotton, 80/20 (80% Cotton 20% Polyester) and fusible wadding in various sizes, send me an email, and I can let you know the current price.
o0o
Some projects from Calico Kate…
Children's kits from Jolly Red, fun to do, thread, printed canvas and a needle included in kit

Bookmarks in cross-stitch - perfect as a gift and to while away the hours constructively!
Jelly rolls… so much inspiration on YouTube on what you can do with them

Use up your scraps! These were my left overs from my last tuffet - endless possibilities to experiment with different blocks

Run out of fabric? Explore our large range of fabric here on our website; we have plenty of charms, layer cakes and jelly rolls in Calico Kate… just email me, and they will be on their way to you.
o0o
Tuffet classes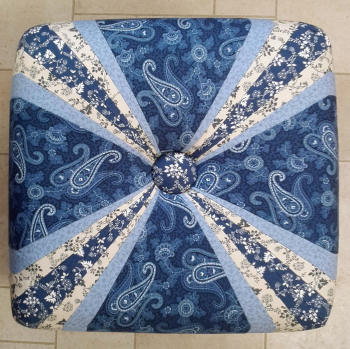 Learn to make a tuffet with Calico Kate, click here for details
o0o
Australian Bushfire Animal Rescue
With your support, we are very pleased to have donated a total of £550.00 to The Rescue Collective, supporting the rescue and rehabilitation of wild animals and habitats damaged by the bushfire crisis. Click here for the latest updates from The Rescue Collective.
Gift Ideas!
Click here for some all-year-round ideas for gifts
o0o
Just arrived
Follow the link to the fabric pages to view.
'Abby Rose' layer cake from Moda

'Grunge Basics' from Moda

'Baby Blossom' Double Knitting yarn, from Sirdar

'Unicorn-O-Copia', from Blank Quilting

Several new colourways added to the Kaffe Fassett Collection

'Sunny Bee' from Makower

'Guess How Much I Love You When I'm Big', from Clothworks

'Happy Campers', by Tilda

'Spring Garden', by Makower

'Harvest Road' precuts, from Moda

'My Redwork Garden', from Moda