Sewing machines
If you have never used a sewing machine, we are now able to offer a free half hour of instruction - this can be arranged after the purchase of your machine at a mutually convenient date and time.
For full specifications of any machine,
please see the Janome website
* * * * *

Janome 217-S:

Special purchase, £99.00



14 stitch options
Auto 4-step buttonhole
Variable stitch length
Convertible free arm
Quick change snap-on feet
Only 6.5kg, so ideal to take to classes
2-year warranty


<>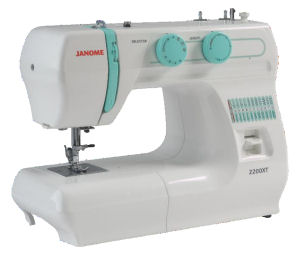 Janome 2200XT: £149.00
22 built-in stitch choices
Auto 4-step buttonhole
Easy stitch selection
Variable stitch length
Quick foot conversion
Drop feed for freehand embroidery
Free arm for sewing cuffs etc.
2 Year Guarantee

<>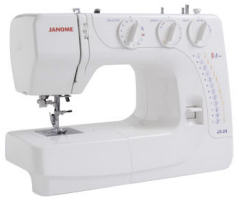 Janome 3-24: £229.00


24 stitch choices
Auto 1-step buttonhole
Auto needle threader
Variable stitch length
Double lift presser foot for thicker fabric
Auto-stop bobbin-winder
Snap-on feet: zipper, hemmer, blind hem & satin stitch
Side thread cutter
Hard cover
2-year warranty


<>

Janome Sewist 525s: £289.00 Last one!

The Janome Model 525S is a lightweight machine with a top loading jam proof bobbin system and convertible free-arm for circular sewing, and was voted BEST BUY by Which? magazine.

The 525S features 24 stitches plus a fully automatic one step buttonhole and a built in needle threader. It offers both stitch width and length adjustment and a drop feed facility for freehand embroidery and free motion quilting. The 525S also has an auto-declutch bobbin winder and is supplied with a two speed foot controller and a hard cover.

Standard Foot
Zipper Foot
Automatic Buttonhole Foot
Blind Hem Stitch Foot
BH Foot
Overcasting Foot
Quilting Guide
Set of Needles
Screwdriver
Lint Brush
Bobbins (4)
Seam Ripper
Large & Small Spool Caps
Spare Spool Pin
Weight 6.8kg
2-year warranty


<>

Janome 725-S: £299.00


The perfect modern mechanical machine for beginners to learn the stitch settings with all the necessary utility stitches plus many more, together with a 1-step buttonhole. It's easy to start sewing with the built-in needle threader, the quick set bobbin and the LED light. A hard cover comes as standard and the accessories can be stored in the convenient drawer at the front of the machine.

Mechanical Sewing Machine
Free Arm / Flat Bed Convertible
Machine Size: W411 x H297 x D175mm
Maximum Stitch Length: 4mm
Snap on Feet
Drop Feed
Built in Stitches: 25 including 1 Step Buttonhole
Twin Needle Facility
Horizontal Type Spool Pin
Bobbin Winder - Auto-declutch type
Horizontal Full Rotary Hook
Top Loading - Category B
Approximate Weight: 6.7kg
Maximum Sewing Speed: 830 s.p.m. (approx.)
Maximum Stitch Width: 5mm
Needle Threader
Manual Thread Tension Control
Power Switch
Hard Cover
Carry Handle


<>
Janome 423-S: £299.00
24 built-in stitch choices
Variable stitch width & length
Quick foot conversion
Freearm for circular sewing
Adjustable foot pressure
Auto 1-step buttonhole
Built-in needle threader
Drop feed for freehand embroidery
Convenient thread cutter
Robust metal body
This is a great machine for both beginners and for those with more experience. It is really easy to use with a dial for stitch selection and slide controls for adjusting stitch length and width to suit the fabric being sewn. The automatic 1-step buttonhole is a dream. Just pop a button into the foot and this machine will sew you a perfectly sized buttonhole in one easy step. And the automatic needle threader will make threading a breeze! A solid metal-bodied machine with a great range of stitches and features, plenty of accessory storage and a hard cover for protection. Weight - 7.4kg
<>

Janome GD8100: £299.00




Easy to use computerised machine with free arm. 'A machine to grow with your skills, suitable for beginners and the more experienced.'

100 built-In stitches including 1 step automatic buttonhole, 3 styles
Jam proof top loading drop-in bobbin
Built-in needle threader
Drop feed for free motion embroidery
Start/Stop button
Lock stitch button
Speed control slider
7mm stitch width
LED light
Worldwide voltage
2 Year Guarantee


<>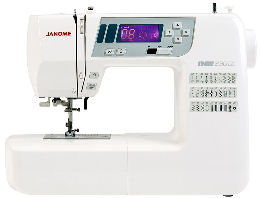 Janome 230DC: £349.00
Fully computerised
30 stitch choices
3 styles of auto 1-step buttonhole
Jam-proof drop-in bobbin
Auto needle threader
Maximum speed control
Programmable needle up/down
Foot pressure adjustment
Extra wide table included
Hard cover

<>
Janome DKS100 Special Edition £529.00

(JQ6 Quilting Kit and extension table available for £129.00)

An easy to use machine with 10 large buttons to select the most popular stitches, plus four more for the automatic buttonholes. Other stitches are selected by using the large numeric keypad. The 14 direct select keys have an LED light which illuminates when pressed.

This machine has all the features to make sewing simple & enjoyable and an extensive range of stitches to cover every sewing project. Fully computerised with a host a great features including Janome's new easy set bobbin system this machine ticks all the buttons. Stitch width & length adjustment keys are located directly under the screen: it just couldn't be easier. There's even a special key which enables some stitches to be elongated up to 5 times normal without losing stitch density! And for quilters we've included a knee lifter. There's plenty of accessory storage and a hard cover for protection. Weight – 7.0kg

Fully computerised
Easy set bobbin system
Maximum speed controller
Programmable needle up/down
Lock stitch feature
Start / stop button
Wide-angle LED lighting
100 Built-in stitches
Auto 1-step buttonholes (6 styles)
Pattern elongation up to 5 times
Auto needle threader
Auto thread cutter
Unique bobbin winder cutter


Included Accessories: Auto buttonhole foot, Satin stitch foot, Standard foot, Overedge foot, Blind hem foot, Zipper foot, Lint brush, Screwdriver, Seam ripper, Spool holder – large, Spool holder – small, Spool pin – spare, Foot control, Power lead, Knee Lifter, Hard cover, Bobbins, Needles, Instruction book, Instructional DVD

<>

Janome Atelier 3: £799.00
(Kit: Extra-wide table available: £71.50)


A clear LCD screen helps you select from the 120 stitches, including 7 auto 1-step buttonholes and alphabet. LED lighting, an easy-set bobbin, a needle threader, speed control slider, start/stop button, auto lock and auto thread cutter all help make your sewing easier. Ideal for bigger projects and equally suited to precision sewing.

Fully Computerised
Memorise stitch & alphabet combinations
Maximum speed controller
Programmable Needle Up/Down
Lock stitch feature
Start/stop button
120 built-in stitches
Auto 1-step buttonholes in 7 styles
7mm stitch width
Auto needle threader
Auto thread cutter
Easy-set bobbin
Work space Length 210mm (8.3") to right of the needle
Speed Control Slider
Auto cutter on bobbin winder
Semi-rigid cover
Size: W 504 x H 316 x D 236 mm
Approximate Weight: 10kg


<>
Janome 9300DX: £269.00

3 or 4 thread overlocking
Colour coded easy threading
Differential feed for difficult fabrics
Adjustable cutting width
Variable stitch length 1.0 - 4.0mm
Uses standard ballpoint needles
Easy rolled hem conversion
Lay-in thread tension dials
Retractable upper knife
Variable seam width 2.0 - 5.7mm
Sews up to 1,500 s.P.M.
Extra high presser foot lift
The Janome 9300DX gives you a wide range of overlocking features in a compact machine. Its sturdy design and precise Janome stitch performance ensures a professional finish every time. It comes pre-threaded and has a built-in rolled hem feature (no plate change) for easy changeover. The differential feed prevents puckering and stretching, and can be used for fun special effects and the upper knife can be deactivated for decorative sewing. Colour coded paths make threading so easy. Other features include whisper-quiet operation and an electronic foot control.
Weight: 8kg
<>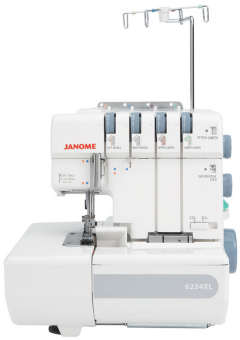 Janome 6234XL: £449.00

2, 3 & 4 Thread Overlocker
Easy Rolled Hem Conversion (No Plate Change)
Maximum Stitch Length: 5mm
Needle Guard Front & Back
Lay-in Thread Tension Dials
Seam Width (Wide): 5.7mm
Seam Width (Standard): 3.5mm
Adjustable Cutting Width
Maximum Sewing Speed: 1500 s.p.m. (approx.)
Retractable Upper Knife
Rolled Hem: 2.0mm
Colour Coded Threading Guide
Differential Feed Ratio: 0.5 to 2.25
Lower Looper Easy Threading Mechanism
Snap On Presser Feet
Soft Dust Cover
Lower Looper Pre-Tension Setting (Rolled Hems)
Size: W320 x D290 x H280mm
Weight: 8kg


<>

Janome CoverPro 2000CPX: £499.00
Available to order


1,2 or 3 needles
3mm double needle cover stitch
6mm triple needle cover stitch
Colour coded easy threading
Variable stitch length 1.0 - 4.0mm
Extra large bed space
Unique seam tightening system (STS)
6mm double needle cover stitch
Double chain stitch
Vertical needle drop
Differential feed for difficult fabrics
Tension release device


The CoverPro 2000CPX's innovative design is based on the marriage of an industrial style cover hem machine and a convenient home sewing machine. This means it sews like a sewing machine with all the dials conveniently located. It has a much larger arm space than competitor models and it has a freearm facility that is unique to this type of machine.
Please note, it is not an overlocker.

The resulting union has produced a high speed, long arm, heavy duty cover hem machine, that looks and operates like a sewing machine.

Weight: 8kg
Please note: We do not supply Janome branded sewing machines or overlockers to customers residing outside the United Kingdom and the Republic of Ireland. The warranty on Janome products sold by ourselves is limited to these territories.