Sewing machines
British Sewing Awards 2020
Best all-rounder machine brand - Winner JANOME
Best quilting machine brand - Winner JANOME
Best entry-level machine brand - Winner JANOME
Best embroidery machine brand - Highly commended JANOME
Best top-spec machine brand - Highly commended JANOME
Best overlocker brand - Highly commended JANOME
If you have never used a sewing machine, we are now able to offer a free half hour of instruction - this can be arranged after the purchase of your machine at a mutually convenient date and time.
The machines shown below are currently in stock, but we are happy to order any other machine from the Janome range.
Please note that deliveries of sewing machines have been severely disrupted by the Covid-19 pandemic: we are awaiting delivery dates on all other machines.
For full specifications of any machine,
please see the Janome website
* * * * *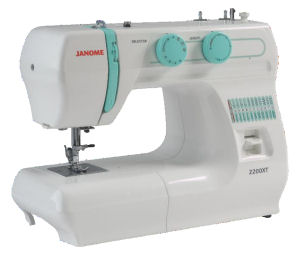 Janome 2200XT: £169.00
22 built-in stitch choices
Auto 4-step buttonhole
Easy stitch selection
Variable stitch length
Quick foot conversion
Drop feed for freehand embroidery
Free arm for sewing cuffs etc.
2 Year Guarantee

<>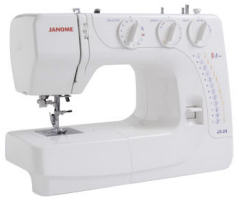 Janome 3-24: £259.00

Awaiting new stock
24 stitch choices
Auto 1-step buttonhole
Auto needle threader
Variable stitch length
Double lift presser foot for thicker fabric
Auto-stop bobbin-winder
Snap-on feet: zipper, hemmer, blind hem & satin stitch
Side thread cutter
Hard cover
2-year warranty
<>
Janome 725-S: £329.00

As used on The Great British Sewing Bee!
The perfect modern mechanical machine for beginners to learn the stitch settings with all the necessary utility stitches plus many more, together with a 1-step buttonhole. It's easy to start sewing with the built-in needle threader, the quick set bobbin and the LED light. A hard cover comes as standard and the accessories can be stored in the convenient drawer at the front of the machine.
Mechanical Sewing Machine
Free Arm / Flat Bed Convertible
Machine Size: W411 x H297 x D175mm
Maximum Stitch Length: 4mm
Snap on Feet
Drop Feed
Built in Stitches: 25 including 1 Step Buttonhole
Twin Needle Facility
Horizontal Type Spool Pin
Bobbin Winder - Auto-declutch type
Horizontal Full Rotary Hook
Top Loading - Category B
Approximate Weight: 6.7kg
Maximum Sewing Speed: 830 s.p.m. (approx.)
Maximum Stitch Width: 5mm
Needle Threader
Manual Thread Tension Control
Power Switch
Hard Cover
Carry Handle
<>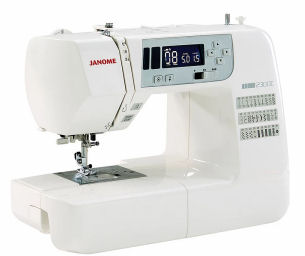 Janome 230DC £379.00
Light enough to carry to classes with plenty of stitch options for creating all kinds of projects.
The model 230DC has lots of easy to use features which make sewing a pleasure, it is the machine to grow with your skills and is both suitable for beginners and more experienced sewers. Fully computerised with stitches and settings at the touch of a button. No fuss threading with the auto needle threader and quick set bobbin. There's plenty of accessory storage and a soft cover for protection.
30 built-in stitches
3 styles of auto 1 step buttonhole
Top loading bobbin
Start/stop button
Maximum speed controller
Foot pressure adjustment
Lock stitch feature
Led lamp
Metal internal frame and metal needle plate
Extra wide table
Hard cover
Included accessories Automatic Buttonhole Foot (R)
Blind Hem Stitch Foot (G)
Extension Table 18" x 10"
Lint Brush
Overedge Foot (C) with brush
Satin Stitch Foot (F)
Screwdriver (3 Pronged)
Seam Ripper
Spool Base
Spool Cap (Small)
Spool Cap (Large)
Spool Pin (Spare)
Spool Pin Felt
Standard Foot (A) (Black Button)
Zipper Foot (E)
C-Foot Control
Power Cable
Bobbins x 4 (Plastic)
Needles (Organ 3 Pk size 14)
Hard Cover
<>
Janome 740DC £549.00
A fantastic contemporary computerised machine for beginners and advanced stitchers alike to accomplish sewing success. Featuring a wide, stable work area with direct stitch selection as well as 40 built in stitches for plenty of choice. The LED light and LCD screen allow for fuss-free sewing and a hard cover comes as standard. Make the right choice with the new Sewist 740DC!
The 740DC allows you to complete simple to complex sewing projects and has features that all sewers will appreciate. Weight – 5.9kg
Fully computerised
40 built-in stitches 3 styles auto 1-step buttonhole
20 direct pattern selection keys
7mm stitch width
5mm stitch length
Satin stitch pattern elongation
4mm length triple straight stitch
Built-in stitch reference charts
Easy set bobbin
LED light
Hard cover
Lock stitch button
Included Accessories:
Automatic Buttonhole Foot
Blind Hem Stitch Foot
Lint Brush
Overcast Foot
Overedge Foot
Quilting Guide Bar
Satin Stitch Foot
Screwdriver (3 Pronged)
Seam Ripper
Spool Cap x 2 (Large)
Spool Cap x 2 (Small)
Spool Pin (Spare - Horizontal)
Spool Pin Felt
Standard Foot
Zipper Foot
Foot Control
Power Cable
Instructional DVD
Instruction Manual
Needles
Instruction Book
4 X Bobbins
<>
Janome 5270 QDC: £749.00
Awaiting new stock
Light enough to carry to classes, with plenty of stitch options for creating all kinds of projects, the 5270 QDC is a jewel in the crown with exciting refined details for projects to shine. Using the knee lift will leave hands free for precise control and the included optic magnifiers will help every stitch be placed precisely.
Computerised Sewing Machine
270 built-in stitches: including 12 buttonholes + 100 letters, numbers and symbols, + 88 european letters
Aluminium Diecast Body
Superior needle threader
Auto thread cutter (scissors button)
Bright led light
3 x optic magnifiers included (x20, x40, x60)
Easy set bobbin
Start/stop button
Foot pressure adjustment
Knee lifter
Wide extension table
Detachable Fold Down Stitch Chart
Work Space: 170mm x 110mm
Hard cover
Machine Size: W406 x H302 x D175mm
Approximate Weight: 6.9kg

<>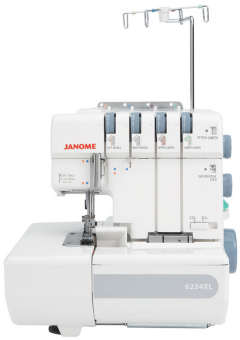 Janome 6234XL: £479.00

As used on The Great British Sewing Bee!
2, 3 & 4 Thread Overlocker
Easy Rolled Hem Conversion (No Plate Change)
Maximum Stitch Length: 5mm
Needle Guard Front & Back
Lay-in Thread Tension Dials
Seam Width (Wide): 5.7mm
Seam Width (Standard): 3.5mm
Adjustable Cutting Width
Maximum Sewing Speed: 1500 s.p.m. (approx.)
Retractable Upper Knife
Rolled Hem: 2.0mm
Colour Coded Threading Guide
Differential Feed Ratio: 0.5 to 2.25
Lower Looper Easy Threading Mechanism
Snap On Presser Feet
Soft Dust Cover
Lower Looper Pre-Tension Setting (Rolled Hems)
Size: W320 x D290 x H280mm
Weight: 8kg
<>

Janome FM725 Embellisher: £359.00


Last one!


Felting / Needle Punching Machine
Free Arm / Flat Bed Conversion
Machine Size: W389 x H278 x D150mm
Approximate Weight: 4.6kg
Needle Plate (5-Hole)
Maximum Speed: 900 s.p.m.
Transparent Finger Guard
Built In Lint Catcher
Presser Foot Height Adjustment
Transparent Adjustable Eye Guard
Carrying Handle
Power Switch
Click here to view brochure

<>
Please note: We do not supply Janome branded sewing machines or overlockers to customers residing outside the United Kingdom and the Republic of Ireland. The warranty on Janome products sold by ourselves is limited to these territories.