Services
We are happy to be able to offer a range of related services to our customers.
Name tapes
Name tapes made in Wales by the National Weaving Company are available in three types and numerous styles, which you order by buying a voucher card as explained below.

Sew-in
woven name tapes
£6.50 for 72

Printed iron-on
name tapes
£6.50 for 50

Peel 'n' Stick labels
£9.00 for 56 labels

Voucher cards are available for woven sew-in labels; printed iron-on labels; and printed Peel 'n' Stick labels for shoes and other items, as illustrated.
You buy an appropriate voucher card from us. The price includes delivery postage.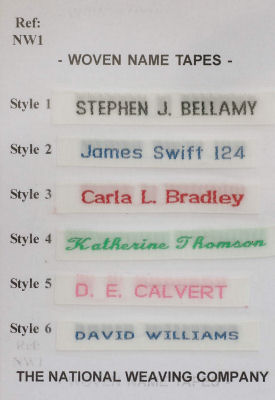 Woven label styles
Having chosen type of label and style, you redeem the voucher online with National Weaving, as instructed in the pack.
Alternatively, you can write order details on the "postcard" in the pack, and post it to National Weaving Company.
Labels are dispatched the day after the order is received, so online ordering is a little faster.
Sewing machine repairs
For all Domestic and Industrial Sewing Machines repairs and servicing, please call Adrian Jones: Tel: 01570 480278, mobile 07531 172006.
Adrian is based in Llanybydder, making it easy to drop off and collect your machine direct from him.