Christmas fabric
At Calico Kate we have a room dedicated to Christmas
365 days a year!
We have Advent Calendars made up for you to see as well as a great range of other panels, Christmas Stockings and coordinating fabrics.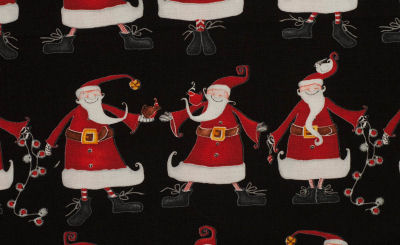 Please also see the links on the right.
Christmas fabrics £14.00 or £16.00 per metre, or as indicated.
Most have discreet metallic highlights.
Images represent 15cm (6in) squares except where stated otherwise
'Jolly Season' from Moda:

£16.00 per metre

35341-11, snow

35345-14, cheery

35345-15, midnight
-----o-----

8444 Winterberry, red
by Riley Blake Designs £17.50 per metre

8444 Winterberry, green
by Riley Blake Designs £17.50 per metre

1717-11 Winter Cottage
by Henry Glass £17.50 per metre

7197 Fireside Pups
by Henry Glass £17.50 per metre

4694-33 Christmas Joy
by Studio E £17.50 per metre

4694-99 Christmas Joy
by Studio E £17.50 per metre

Amazing Stars

by Stof: £16.00 per metre.
We also stock the 'Amazing Stars' Advent Calendars, shown on the Advent Calendars page.

4594-502

4594-915

4594-919

Around Town Christmas

by DT-K, for Studio E
£16.00 per metre

3716-99

3718-90

3715-89

Nocturne, by Hoffman Fabrics/Stof


£16.00 per metre

3902-506

3902-507

3902-510

3902-511

3902-512

3902-513

Anne of Green Gables (Christmas), by Penny Rose Fabrics


£16.00 per metre

C6490 - grey

C6495 - grey
———Fabric below this point is £14.00 per metre———

Joy to the World, by Lisa Conlin for Quilting Treasures


24491-E


24491-F


24491-J


Love & Peace, from Quilting Treasures


24473-O, Love & Peace, orange


24473-R, Love & Peace, red


24473-V, Love & Peace, dark red