Welcome to Calico Kate!
About Calico Kate
Established in 2002, Calico Kate has gained a reputation as an 'Aladdin's Cave' for patchworkers, dressmakers, knitters and embroiderers.
In a building full of charm and character, you can now wander through twelve rooms of fabric, haberdashery and yarn, in a relaxed
and homely atmosphere.
Calico Kate is in Lampeter's High Street, next to the handsome Town Hall, now home to the Welsh Quilt Centre.

<>
Welsh Quilt Centre
The final exhibition - 'Nos Da/Goodnight' - at the Welsh Quilt Centre closes on Saturday 17th November 2018.
This is your last chance to see this last exhibition, A Panoply of Historic Welsh Quilts, so don't miss it! - Calico Kate
<>
British Sewing awards 2018
We are delighted to have been nominated for the 2018 British Sewing Awards, in two categories:
Best Independent Retailer, Wales

Most outstanding Sew Saturday event 2017
(You can read all about our Sew Saturday 2017 project
on the News page)
Voting has now closed for the British sewing Awards.
Results will be announced early in the New Year!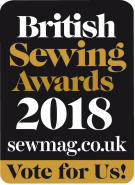 <>

Best Independent
Haberdashery Shop
Wales

Best for
Customer
Service

Best Independent
Haberdashery Shop
Wales