Kaffe Fassett collections
A wide selection of fabric from well-known designer Kaffe Fassett, ranging from delicate pastels to spectacular abstract and floral-derived patterns. Follow links on the right to view our stock.
Just arrived: Two sets of sewing and quilting/embroidery threads from Kaffe Fassett, complementing his fabric ranges.
Follow the links on the right
All £16.00 per metre, unless stated otherwise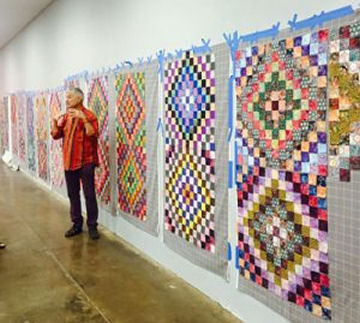 Design Wall flannel - £32.00 for 2 metres (114cm - 45in wide)
If you are attending one of Kaffe Fassett's and Brandon Mably's patchwork workshops, you will need to purchase 2 metres of his design wall flannel - it seems a lot, but you will wonder afterwards how you ever managed to plan a quilt without it!
For full details of what you need for his workshops, visit Kaffe Fassett workshops.