Classes & Tuition
Many and diverse craft classes are available in mid-Wales. If you offer classes or tuition, we will be happy to add your details.
Quilting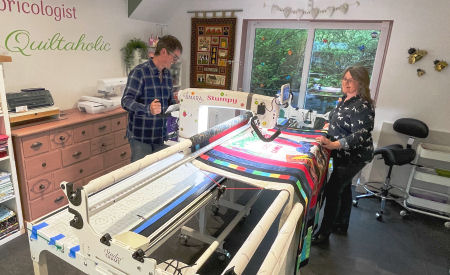 "Cupboards full of quilt tops waiting to be finished?
Desperately want them quilted but "Quilt by Credit Card" prices putting you off?
Have you always wanted to have a go on a longarm quilting machine?
Fancy finishing that quilt yourself?
How about learning a new skill while having lots of fun?
Here at the Stumpy Quilter I run 1-2-1 experience days for quilters in a brand new rural studio.
We start the day with a lesson on a professional longarm where you will learn to quilt a pantograph design of your choice from the collection at the studio.
With lots of friendly help and guidance, you will have the opportunity to quilt that design on to your very own patchwork topper.
No experience required!
Contact me and we can discuss your plans so the I can help you to make your beautiful patchwork into the quilt of your dreams!"
Karen's Quilts: "Come and be part of a friendly group who enjoy sewing. Bring your own project to work on, or join the patchwork class."
Last Friday of the month, 10.30am to 4.00pm. £5.00 for drop in, or £10.00 for patchwork class.
Venue: Karen's Quilts, Pwll y Berlan, Llanrhystud, Ceredigion SY23 5ED tel. 01974 272026
Sewing & Dressmaking Courses
Thimble Studios. Thimble Studios offers a wide variety of sewing courses for all, from one to three days; classes range from absolute beginners to advanced dressmaking. The programme is updated regularly.
Sew-your-own dressmaking retreat
Sat 12th & Sun 13th November
Have you ever sewn along with a group of like-minded people? It's an enriching, creative experience and you get to work on your own project at your chosen pace. I love the relaxed, quiet productivity of those weekends and the camaraderie of our groups.
Complete beginner sewing class
Sat 19th November
My complete beginner day is an in-depth one-day workshop that will teach you (once and for all) how to use a sewing machine.
Sewing with stretch
26th & 27th November
Dressmaking / suitable for all levels
On this dressmaking weekend, you will learn everything from choosing, handling, cutting and sewing with stretch fabric. You will make a couple of garments so by the end of the course there isn't a remaining ounce of fear regarding seeing with stretch. This course is suitable for all levels, but *ideal* if you have done a dressmaking course before.
More details on website, or email Camille Jacquemart
07799 256250
Harriett Chapman Designs: Sewing classes:
Beginners only - Thursday 6.00 to 8.30 pm.
All abilities - Tuesday and Thursday 10.00 am to 12.30 pm.
Cost per class £12.00.
Venue: Unit 15, Pencarreg Craft Centre, Aberaeron
Further information: tel. 07732 320717; email Harriett; facebook: harriettchapmandesigns.
Jewellery Making Workshops
Rose Wood Jewellery: Further details here: Rose Wood Jewellery
01559 370676
Mixed crafts
Make it in Wales is a Community Interest Company run as a not-for-profit organisation. A very wide variety of courses are run throughout the year in Cardigan, West Wales, led by some of the best designer-makers in the area. Full details on website, by email or tel. 01239 758088.
"Make it in Wales @ Stiwdio 3 is a community space offering a range of craft activities as well as a café, gallery and retail corner. A place where people can meet, eat, make and create."
Inconvenience Workshop: "Come join our introduction to "Inconvenience" workshop with ideas to "ditch the disposable and unplug". Learn how to make everyday items for personal care and the home that can be washed and reused and reduce reliance on "throw away" items. On this Inconvenience workshop you will have the opportunity to make washable face pads, a useful and unusual fold-away bag and beeswax wraps."
Venue: Denmark Farm Conservation Centre, Saturday 1st February 2020, 10am-4pm. More details
Waunifor Centre: Waunifor offers a wide range of talks and workshops in pottery, art and crafts, together with self-catering accommodation, near Llandysul in mid-Wales.
Full details on website or at Waunifor what's on; email
phone 01559 395437.
Rag rugs
Rag Art Studios: Rag Rug Making, tools and materials, workshops. Further details here: Ragart Studios Sue 01974 298100
Willow sculpture, basketmaking, felt artist
Cassandra Lishman: Further details here: Cassandra Lishman
01994 419061